Presently, most eCommerce platforms do not provide merchandisers with the option of promoting a set number of products for a period of time. Tagalys simplifies this process through a feature 'Pinned Product Scheduling.' Merchants are required to manually pin products across categories | collections, and also remember to revisit the same and unpin again.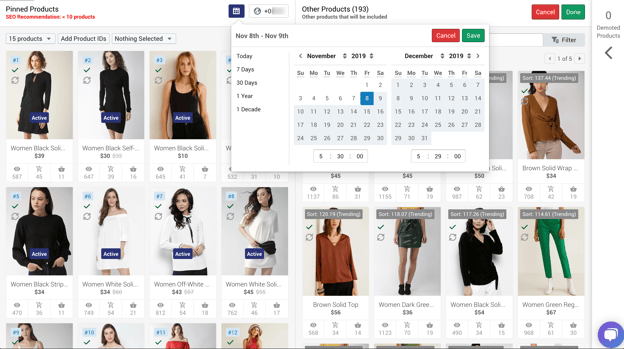 A simple method to selecting and promoting products for a set period of time across product listing pages
'Pinned Product Scheduling,' is a feature wherein merchants can choose the products to showcase for a set period of time. With the help of the Scheduled Promotions feature, merchants can schedule the duration of pinning a set number of products in a Category, Collection, and 'Custom Widget.'
The feature empowers the merchant to save time, while also being able to plan and schedule promotions that are in line with product marketing and sales campaigns. This also helps with visitor engagement by ensuring the category | collection does not remain static, waiting for the merchant to manually visit unpin the same.
Once products are pinned, conditions can be set up so that the products remain pinned as long as the conditions are met, within the scheduled period.