While migrating from search 1.0 to search 2.0, merchandisers will be given access to both old and new features on the Tagalys dashboard simultaneously. Any changes made to the search analysis features, merchandised searches, or search redirects on search 2.0 will not impact the existing search functionality.
Here are the steps to verify search results during the migration.
Click on 'Search Demo' and the preview of 'Search 1.0' will be available.


The results for search queries in the existing search can be previewed here.
Click on the 'Preview Search 2.0' button to switch to the new search results.

To compare results between the old and new search, you could switch between the two preview options. However, you would not be able to use them both simultaneously.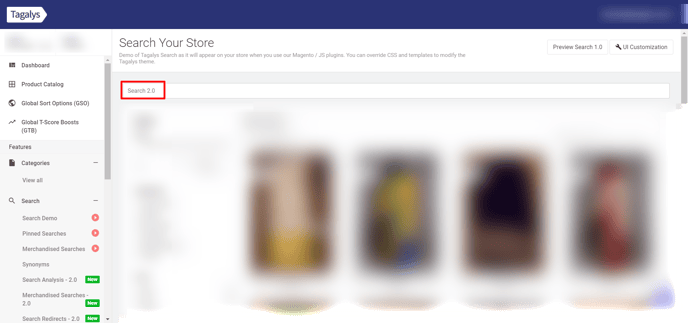 Any existing search query that has not been impacted by synonyms or search merchandising, will showcase the same search results in Search 1.0 & Search 2.0. Search 2.0 gives merchants the additional capability to dynamically control the order & quality of search results where the business feels the results ordered by the trending score does not truly represent what their consumers would prefer