The Dashboard on Tagalys provides merchants with an overview of user engagement data for the last 30-days and this is across visitor engagement funnels that are powered by Tagalys.
An Overview:
The Dashboard showcases the engagement summary across either Product Listing Pages, Search or Product Recommendations for the past 30-days. 'Engagement Ratio' or CTR is a calculated metric on Tagalys that is based on how users engage with products across the Category or Collection, Search or Product Recommendations. It is based on how many 'Unique Visitors' have come in and clicked on one or more products. The 'Unique Visitor' metric is also calculated based on individual device IDs and as long as a user uses the same device ID, the view / visit will be calculated as 1.
The Dashboard also gives you an overview of additional metrics, such as add to carts, units sold, revenue, and the conversion rate. This data is based on the 'Unique Visitors' who visit the page and pass down the Collection funnel.
The image below is taken from a Magento demo store. The image below shows data where Categories have been enabled for merchandising on Tagalys.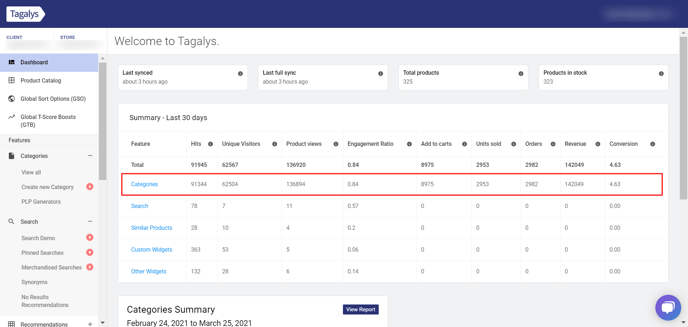 The 'Sync' status:
The 'Last Synced' signifies the time since the last update was sent between the eCommerce platform and the Tagalys Dashboard. This depends on the CRON for Magento platforms and the Shopify API for Shopify. You can also view the 'Total products' that have been successfully synced to Tagayls and the total number of 'Products in Stock.'
The image is taken from a demo Magento platform on Tagalys.