Merchandising timeline graph helps merchants analyze how collections have performed in a time frame wrt merchandising changes in a Category | Collection.
Merchants can now analyze the performance of a Category | Collection based on the merchandising changes made in a timeline. This graph records the last ten merchandising changes in the last 30 days.
Metrics like 'Unique visitors who viewed the product', 'Unique add to carts', 'Unique orders', and 'Revenue' are available in the reports.
Here is an example of a merchandising timeline graph for 'Unique visitors who viewed products'.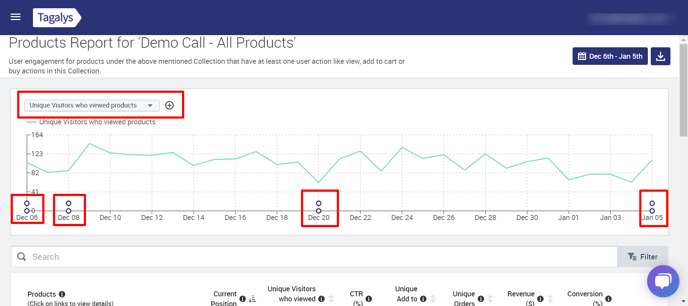 The merchandising timeline graph can be viewed under the category | collections report.
To view the merchandising history, you can hover over the circles (versions) and click on them. You can also view the version number, date & time and by whom the changes were made.

Clicking on the circles, opens up the version in a new tab.