Version history allows merchandisers to view older versions of product merchandising assigned to a Category | Collection.
Version history is a feature in the Tagalys dashboard that tracks the merchandising changes on a category | collection page for the last 30 days. Every time a change is made and saved, a new version is created. This allows you to revisit the previous merchandising setup and restore (Coming Soon) an older version if required.
To view the previous versions of a category | collection, click on the 'version history' icon.
The versions along with the date, time, and the person who made the last change can now be viewed for all Categories | Collections.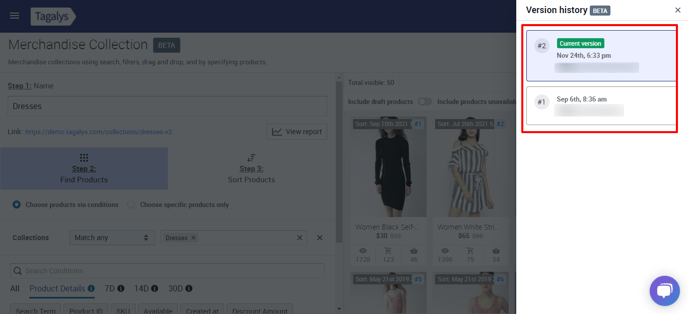 Click on the version you would like to view and then click on 'Continue' to navigate.
Now you can view the previous version and make changes to the existing merchandising setup if required. Now you can view what changes were made in a version such as product sorting and curation, Global sort option, etc.

The ability to restore any of the older versions of merchandising will be launched soon.
Click here to learn about viewing the merchandising versions on the Category | Collection reports