Category and Collection merchandising enables the merchant to programmatically and automatically sort products in these listing pages. This is possible through the following features.
1. The 'Global Sort Option' (GSO): The 'Global Sort Option' (GSO) enables the merchant to execute merchandising strategies across multiple Categories or Collections instantaneously. Also, features such as the 'GSO Boost' allows merchants to increase visibility to selected products (using data and conditions) based on the merchants business insights. The default GSO available to merchants is Trending.
To learn more about GSO read here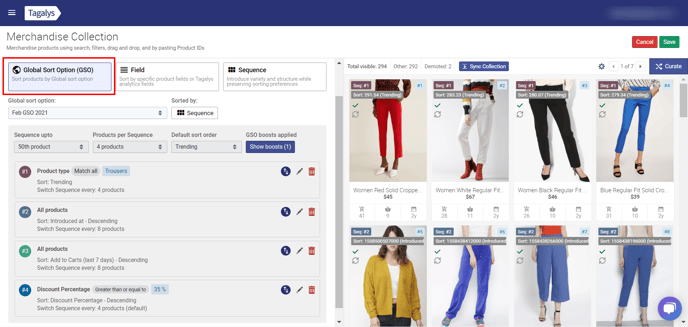 2. Tagalys Analytics (Fields): 'Fields' is unidirectional data set that is used for sorting products in Collections or Categories. The feature allows merchants to sort products in categories or collections using simple data fields (engagement & product catalog data) in their ascending or descending directions. If merchants have to use multiple fields of data for product sorting, they must use 'Sequences.'
To read more on Analytic Sort Fields for Categories and Collections read here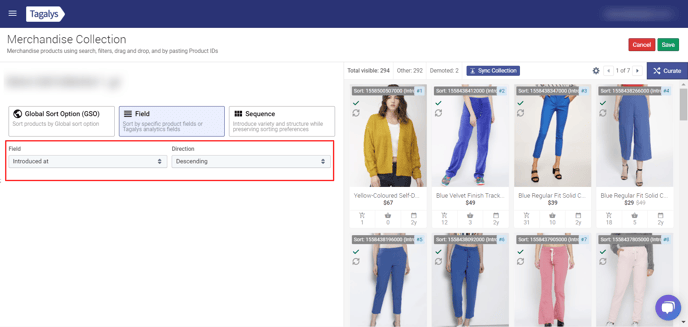 3. Sequencing: Product Sequencing gives merchants the ability to instantly & visually create simple or complex data-driven sequences, wherein the product sorting is automated based on Tags, Analytic Fields, Search Terms, and more. The feature can be used to create up to 50 sequences per Category or Collection, allowing merchants to display products on a product listing page in any desired order.
To read more about how you can use Product 'Sequencing,' click here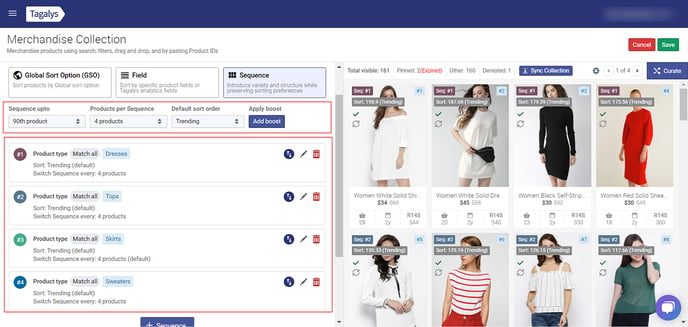 4. Visual Curation: By using 'Visual Curation,' a merchant can manually choose products by 'pinning' them on a Product Listing page at the position desired for enhanced product visibility.
To read more about how you can use Visually Curate products, click here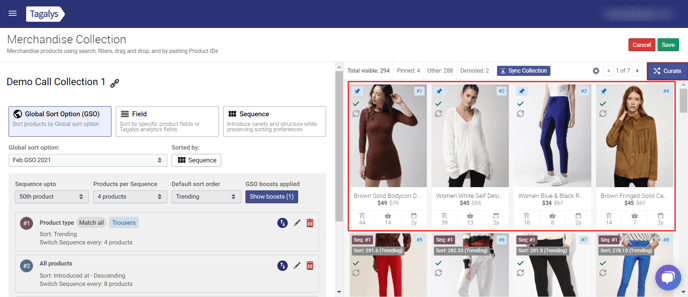 Merchandising Collections and Categories on Tagalys allows a merchant to save over 80% of their time while improving product performance metrics that in turn improve online sales and revenue.
To learn more on a GSO use case, click here
To learn more on a 'Local Boost' use case, click here